By: Edward Story, Board Member and VP, Eco-Aviation Foundation Int'l. September 30, 2019
The Sustainable Aviation Project and New Vision Aviation, Fresno, have submitted to the FAA a petition for exemption in order to recertify four Pipistrel Alpha Electros to SLSAs so they can be used in normal flight training operations. Currently the Pipistrel Alpha Electros can be flown privately but not for commercial nor for training purposes given that they are still viewed as experimental. See: https://www.pipistrel-aircraft.com/
We visited on Saturday, September 28th, with Joseph Oldham, CEO of New Vision Aviation and prime mover behind the multi-city Sustainable Aviation Project. Oldham has been working on this project for the past few years. His enthusiasm is palpable!
After seventeen months of testing and validation work, Oldham and his team have submitted a twelve page petition for exemption to recertify their four Pipistrel Alpha Electros to Special Light Sport Aircraft ("SLSA") status so these aircraft can be used in normal flight training operations. See: https://www.faa.gov/aircraft/gen_av/light_sport/ .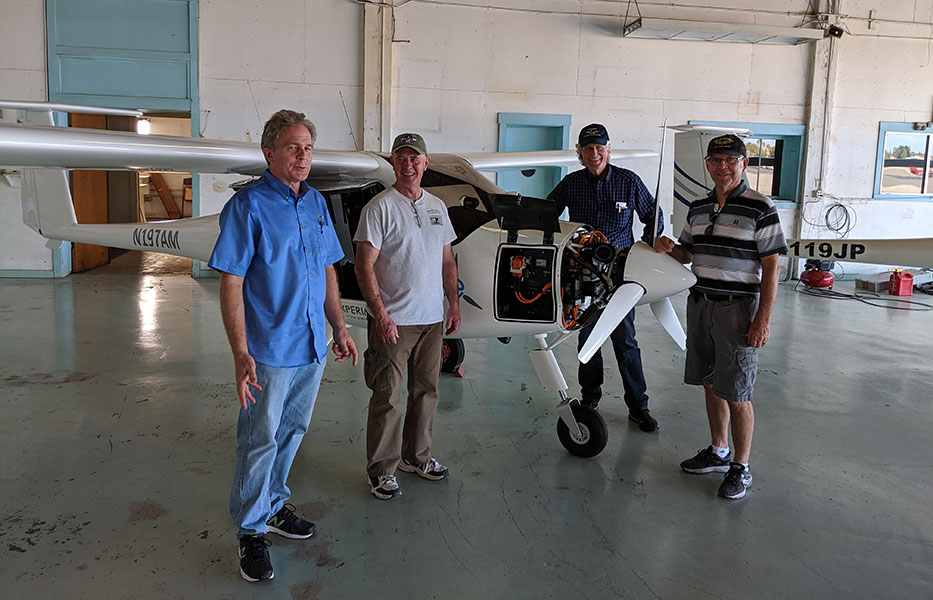 In addition to the City of Fresno, the City of Mendota and the City of Reedley are in material support of the project which is devoted to providing low cost, affordable, flight training in the San Joaquin Valley and providing a commercially viable test area for electric aviation training. The cities provided significant data collection needed to support the petition and their airports will provide an additional opportunity for cross country and multi-airport training.
Both Boeing and NASA have approached Oldham to provide assistance and to collaborate.
Oldham expects a response from the FAA by the end of this year or earlier. There will be a public comment period via the Federal Register. Further information can be had and the project examined additionally at https://sustainableaviationproject.com.
Eco-Aviation Foundation International will also be following this project and will have further updates. There is more to this story of how these aircraft were acquired and brought to this country, all of which we will be reporting on in coming weeks.
Importantly there is much more to the story of how the relative quiet of electric aviation can revitalize airports and help provide flight training opportunities for students who otherwise would find the dream of flight beyond their means and thereby put a large dent in the massive need for new employable pilots over the next couple decades.
As reported by CNN, passenger and cargo airlines around the world have been expected to buy 41,000 new airliners between 2017 and 2036. These airlines will need 637,000 new pilots to fly them according to a forecast from Boeing released two years ago.
Stay tuned and stay connected to the Eco-Aviation's NewsCenter ~ bringing you the latest developments in "green" aviation!